Property Search

Property Value Complaint Form
Board of Revision Hearing Info

Departments

Downloads

Forms

About Us

Text Only

Dog Licensing

Dog License Search

Property Sales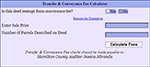 New Transfer Calculator as of January 11, 2019

Maps and Links


Downtown Cincinnati
1968 Vintage Photographs

Expenditure Search

Glossary and Codes
Something for Everyone...
Archive

09/19/2019



If you own rental property in Hamilton County, Ohio Law requires that you register the rental property with the Auditor's office. This registration provides first responders and other emergency personnel contact information in case of an emergency. Check out our new Rental Registration page https://www.hamiltoncountyauditor.org/tax_rentalregistration.asp for more information and for a downloadable registration form.




Mission Statement
To perform professionally the statutory duties of County Auditor with integrity, independence, and a spirit of technological innovation while emphasizing outstanding customer service, excellent public information, and efficient use of taxpayer resources with a streamlined, well-trained and appropriately compensated staff.
---
---
---
It is my pleasure to serve as Auditor of Hamilton County Ohio. As Auditor I act as the County's Chief Fiscal Officer, Chief Assessor, Chief Payroll Officer, and Sealer of Weights and Measures. These duties require my office to provide taxpayers, consumers, school districts and local governments a variety of services, all of which are part of this site. We are continually updating and expanding our website, so please e-mail me if you have any suggestions or comments.


---
This site best viewed with Internet Explorer version 8 or higher and a screen resolution of 1024 x 768.